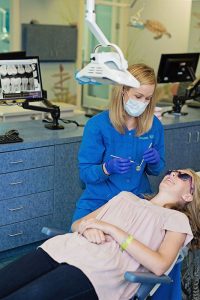 Nothing is more frustrating to our office than when a child is unable to see us due to circumstances beyond their control.
This happens frequently with insurance coverage. To combat this, our office will gladly accept any PPO insurance, and we are an in-network provider for most major insurance companies. As a courtesy to our out-of-network patients, we will gladly bill your insurance provider for you.
We don't like surprises when it comes to our own personal health care, so we try our hardest to estimate all out of pocket expenses for your family. If you are concerned that we are not a network provider for your insurance, we are happy to pre-approve your coverage, so you will have an estimate of what your expenses will be. Many times, the out-of-pocket expense will be similar to a network provider.
We accept cash, credit and debit cards, and checks when paying a deductible or if you do not have dental coverage. Please keep us informed of any changes with your insurance including policy name, insurance company address, or a change of employment. If you have any questions about your coverage or payments, please contact Rockwall Pediatric Dentistry at 972-771-9933. Our pediatric dentists in Rockwall and Heath, Texas, look forward to providing you and your child with a quality experience.