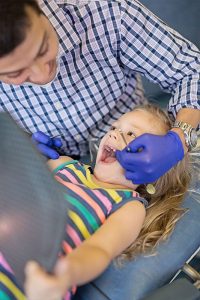 Many people have heard of the possible health risks associated with amalgam fillings. Amalgam fillings expand and contract with fluctuating temperatures, like in hot and cold foods. Over time, this movement weakens the tooth wall which can fracture the tooth and let bacteria in. Our team is dedicated to giving your family the best care possible and, therefore, avoid risky materials.
Bisphenol A (BPA) is another controversial chemical that has been found in composite fillings. Rockwall Pediatric Dentistry only provides treatments and materials that guarantee safety and durability. For that reason, Drs. Morgan, Allman, and Compton only use BPA-free fillings and sealants.
The benefits of BPA-free dentistry are numerous:
Provides a tight seal
Resistant to fracturing
Efficient setting time
Aesthetic appearance in tooth
In general, our sealants will protect the chewing surface of the tooth, but you must have good brushing and flossing habits to fully protect the enamel. We also advise that your child avoid large ice cubes to not chip off the sealant.  Be sure to watch for any biting, sucking or scratching if your child is still feeling numb. If you have any questions regarding our operative care in Rockwall and Heath, Texas, please contact us at 972-771-9933. We look forward to meeting you!