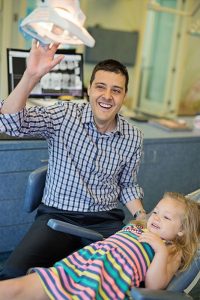 Finding the right pediatric dentist for children with special health care needs can be hard, and is something Rockwall Pediatric Dentistry is very mindful of. Our office is designed with your special needs children in mind. We provide fun play areas while your child waits for their appointment, as well as toys and technology to keep them entertained while you check in with us.
We will accommodate any extensive dental services your child may need. Drs. Morgan, Allman, and Compton explain all steps of the process before treatments and cleanings begin, with a "tell, show, do" method. This may not be applicable in every situation but we do this to ease any anxieties or fears your child may have. We will evaluate your child's dental development and communicate with you to create the most appropriate care plan for them.
We are a practice that has been sustained for 25 years by our caring and compassionate team. Our Rockwall and Heath, Texas office will describe proper oral hygiene to you and your child to ensure your little one has a bright, happy smile in between visits. We invite you to call our office at 972-771-9933 to speak personally to one of our staff members about your child's needs, and we will do everything possible to treat them with the utmost care and understanding.